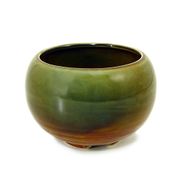 Handcrafted Incense Bowls

Shoyeido's bowl incense holders are used with white ash, reflecting Japan's long ceremonial incense tradition. Each hand-thrown and glazed bowl features a three-footed base to provide stability and consistent heat transfer when used with white ash and charcoal. Our skilled potters' freehand glazing process produces unique and beautiful finished works of art.

Please note: due to the uniqueness of all handcrafted and hand-glazed pottery, variations in glaze colors and effects are common. The piece you receive will not exactly match the image displayed.