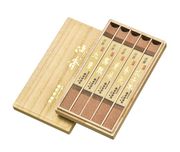 Baieido Premium Assortment Set

Koh shi Boku Kyara (Vietnam), 6.5", 10 sticks
Koh Shi Boku is made from Kyara (Vietnum). "Koh Shi" is the name of the ancient philosopher 'Confucius', "Boku" means Wood or Tree.

Koh En Aloeswood (Vietnam), 6.5", 15 sticks
Koh En is "Garden Incense" of Japan that has the finest grade of Vietnamese Aloeswood. Reminiscent of the scent of summer flowers and cherry blossoms in bloom. "Koh" means Incense, "En" means Garden.
Main Ingredients : Aloeswood (Vietnum)

Kun Sho Aloeswood (Cambodia), 6.5", 15 sticks
Kun Sho is the "Rising Scent" because it is thought to offer the heavens this wonderful and subtle Aloes Wood incense. Graceful and Gentle, Kun Sho is an absolute delight and made from Cambodian Aloes wood. "Kun" means Fragrant, "Sho" means to Rise up.

Ho Ryu Aloeswood (Thailand), 6.5", 15 sticks
Hyo Ryu is predominantly made of fine Aloeswood from Thailand. "Hyo" means Phoenix and "Ryu" means Dragon.The Phoenix and Dragon hold a very special place in Oriental beliefs. The Phoenix is sovereign of the birds. It is said that it only appears when truth and justice prevail in the world. Therefore, to see the mythical creature is a statement that all is right in the world.

Kokonoe Aloeswood (Indonesia), 6.5", 15 sticks
Kokonoe is like strolling through an Indonesian Palace. Ornate murals all around and the sound of exotic music floating through ancient halls. The peace and serenity of the place leaves you in utter awe at its grandeur. This incense is made using Aloeswood from Indonesia, specifically Kalimantan aloeswood.
Also available in:
Koh shi Boku Kyara, 6.5", app. 60 sticks
Koh En Aloeswood, 6.5", app. 60 sticks
Kun Sho Aloeswood, 6.5", app. 60 sticks
Ho Ryu Aloeswood, 6.5", app. 60 sticks
Kokonoe Aloeswood, 6.5", app. 60 sticks